KIRK SESSION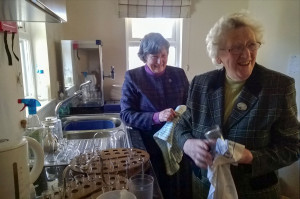 Killin Kirk Session consists of 1 male and 5 female Elders and currently operates on a model constitution although we are moving towards a unitary constitution. In 2014 it met on 9 occasions.
A training session for elders in connection with the Protection of Children and Vulnerable Adults was held in Killin for elders of both Killin & Ardeonaig Parish Church and Balquhidder Parish Church in October 2013. Our Session Clerk is a Presbytery Trainer for Safeguarding.
CONGREGATIONAL BOARD
Killin Congregational Board consists of the Kirk Session plus another 1 male and 2 female members. The Congregational Board met 7 times in 2014.
We currently have no Beadle, so members of the Board and Session take it in turn to open up and close the church on a Sunday. We pay a member of the church to clean for a couple of hours a week.
The last property convener used to arrange regular Maintenance Days to do cleaning and maintenance work in and around the church buildings and grounds and members of the Board provided lunch for the workers. We found these days to be invaluable for fellowship and for completing simple housekeeping tasks. However, we currently have no property convener and consequently, haven't had a maintenance day since autumn 2014.
MUSIC
We have a very able pianist and organist to lead the praise for three Sundays a month, mostly from CH4. There is a group of musicians from Abernethy Ardeonaig who play a more modern repertoire on the last Sunday of the month. Any remaining Sundays, we have been using downloaded organ music played through our sound system.
There is no church choir, but we have a vibrant community choir that uses the church to practice in and is invited to sing in the church for a carol service in December and there has been a Harvest concert and supper on alternate years for the last four years.
PEOPLE INVOLVED IN WORSHIP
We have no fixed pattern of worship at present, being in a state of vacancy, but most of the services were traditionally minister led apart from the last Sunday of the month which saw members of the congregation of all ages being variously involved in leading the prayers of intercession, the children's talk, drama sketches, bible reading and introducing new songs.
We also have members who are involved in the flower rota, teas & coffees, door duty/taking up the offering, producing a church newsletter, distributing the Life and Work magazine, offering bible reading notes. We have a rota of volunteers for operating the sound system and projector for song words each week from Abernethy Ardeonaig.
CHILDREN AND YOUNG PEOPLE
Sunday School provision is in place; leaders and helpers have been approved under the current regulations and a Safeguarding Coordinator is in post.
Our Sunday School has changed greatly in the last few years. We have lost several families who have moved from the area leaving us a small Sunday School of mainly 20 months old – Primary 2 aged children. There are 12 children – some very regular and some not so. We have met this challenge with help from the staff of Abernethy Ardeonaig. We tell stories through play, rhymes, songs and making pictures. The children are traditionally involved in the Palm Sunday and Nativity services either with a song, or a bit of drama, and there is an annual book giving in June.
Young children have been made more welcome in church by the introduction of toy sacs (or 'busy bags') which are available at the door for use in the church service.
ABERNETHY
There are about 30 people in the team at Abernethy Ardeonaig with ages ranging from 18 to 64 with an average age of 29; some full time and some part time, some here as a gap year and some as a long term career. Team members attend services when not needed to work and often form a significant proportion of the congregation on a Sunday morning.
A number are very involved in the life and work of the church despite not being members. They help with: tea and coffee after the service, the band, Sunday School, the AV system, and maintenance days. But, generally, it is hard to find ways in which they can feel integrated into the life of the church. They are often from different church traditions and it often takes considerable time before they think of Killin & Ardeonaig as 'their' church.
THE GUILD
There is a small but active Guild. Their enthusiasm and contribution to church life is invaluable. There are about eight members. There are monthly meetings to which non-members are invited. They enjoy many varied speakers and activities and frequently neighbouring Guilds are invited to come along. In July they hold an annual Craft Stall and coffee morning and together with their Christmas coffee morning they raise substantial funds for the church.
BIBLE-STUDIES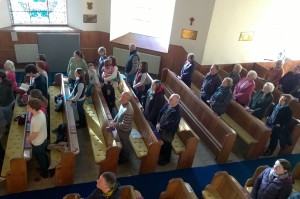 Occasional Bible Studies during Lent and Advent have been held over the years. In 2013, a Summer Bible study was held jointly with Balquhidder Parish Church, it met in the Killin Church Community Rooms for a series of 6 studies on the Apostles Creed. Attendance was disappointingly low. The minister was also invited a couple of times a year to come to Abernethy and lead their weekly team fellowship meeting.
PRAYER BREAKFAST
Prayer breakfast is every 3rd Sunday at 8.30am before the 10am service. We meet together and pray for our Church over breakfast, usually a delicious bacon roll. Average attendance is 2-6 people.
NUMBERS AND MEMBERSHIP
Communicant membership was 86 at the start of October 2015. Membership was down by 9 over the year (4 died, 2 moved away, 7 left the roll & 4 new members). The age of the church membership ranges from 35-90. Average attendance at a Sunday morning service is around 30-40 and ages range from 2 to 90 years old.